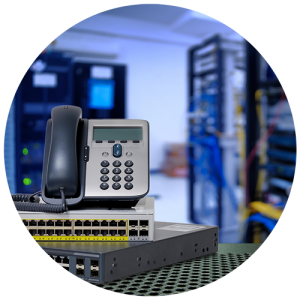 The telecommunications sector, which is a sub-sector of the information and communication technology industry, is made up of all the telephone and internet service providers. As a member of the global economy, its role consists of driving innovation in the wired and wireless communication technology while simultaneously providing dependable and quick service to its clientele. Without the ladder communication between people would be severely hindered; emergency response would be drastically slower, families not in immediate contact would be left to rely on mail service, military personnel would be unable to speak in real time to their families, medical professionals would be delayed in sending their diagnoses to their colleagues. The telecommunications industry is crucial to our post-industrial, information economy.
What role does Midwest ComTel play in this sector?
Our function is two-fold; in one case, we supply telecommunications hardware to service providers and end-users that is necessary in maintaining their infrastructure. This hardware consists of anything from central office circuit boards to underground conduit, to transmission equipment, power equipment, networking and data equipment and so on. In the other case, we provide full-circle solutions for equipment that is no-longer a necessity for our client.
For example, we were called by one client to de-install and remove their telecom network and within a week we were on-site, decommissioning the system and removing it from their premises. We provided an expedited response because of the space the system was occupying, we handled all the logistics, and we ensured all of the equipment would be recycled properly. In another case, handled all of the logistics for our client and we were able to generate a revenue stream that they benefited from because their equipment was still marketable.
As an equipment supplier, we have worked with national retailers whose telecom networks have experienced failure and they therefore required a replacement system in a matter of a few days. We supplied them with the necessary equipment, advised them on their concerns and saved them a considerable sum of capital due to our affordable pricing. In addition to that, we have worked with service providers who require counter-to-counter service. This service involves us quickly taking the product to the airport and making sure it travels by plane to the airport counter of the requested destination.